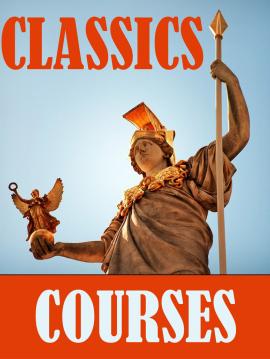 Classics 030. Greek and Latin Elements in English Vocabulary (3 units)
Tim Brelinski
MWF 2:10-3:00P
1010 Pitzer Hall
CRN 56298
Course Description: Take a deep dive into the history of English in this course! In the process, learn skills to develop a more sophisticated vocabulary with ease. Learn to break down words into their elements so that even the longest words' meanings become apparent. Refine your writing by learning to recognize English's different levels from its plain foundational Germanic elements to its middle level Latin-based words to its most lofty Greek scientific vocabulary.
A workbook helps students memorize word elements and expand their English vocabulary. Classroom workshops demystify the rich offerings of a good English dictionary while also reviewing grammar and the structure of English sentences. Lectures introduce the history of the English language and tell the stories of unusual (sometimes downright weird) word origins.
The course will emphasize English's Latin and Greek elements, from which most of English's professional and technical vocabulary arises, and particular attention will be paid to vocabulary relevant to the life sciences.
Grading: Weekly Quizzes, Short Homework Exercises, and Final Exam.
Prerequisite: None. (Knowledge of Greek and Latin NOT required)
GE credit (Old): Arts & Humanities.
GE credit (New): Arts & Humanities.
Format: Lecture - 3 hours.
Textbook:
Waldo E. Sweet and Glenn M. Knudsvig, A Course on Words  (University of Michigan Press, 1989)​