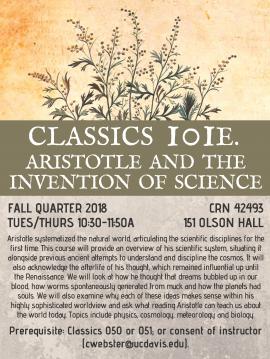 Classics 101E. Aristotle and the Invention of Science (4 units)
Colin Webster
TR 10:30-11:50A
151 Olson Hall
CRN 42493
Course Description: Aristotle systematized the natural world, articulating the scientific disciplines for the first time. This course will provide an overview of his scientific system, situating it alongside previous ancient attempts to understand and discipline the cosmos. It will also acknowledge the afterlife of his thought, which remained influential up until the Renaissance. We will look at how he thought that dreams bubbled up in our blood, how worms spontaneously generated from muck and how the planets had souls. We will also examine why each of these ideas makes sense within his highly sophisticated worldview and ask what reading Aristotle can teach us about the world today. Topics include physics, cosmology, meteorology and biology.
Grading: class presentations, midterm, term paper.
May be repeated for credit up to two times when topic differs.
Prerequisite: Classics 050 or 051; or consent of instructor (cwebster@ucdavis.edu).
GE credit (New): Arts & Humanities and Writing Experience.
Format: Lecture/Discussion - 3 hours; Term Paper.
Textbook:
Jonathan Barnes, The Complete Works of Aristotle, Volume I  (Princeton University Press, 1984)