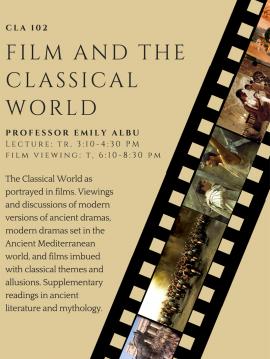 Classics 102. Film and the Classical World [Honors] (4 units)
Emily Albu
Lecture: TR 3:10-4:30P
1128 Hart Hall

Film Viewing: T 6:10-8:30P
146 Robbins Hall

CRN 44059
Course Description: The classical world as portrayed in films. Viewings and discussions of modern versions of ancient literary works, dramas set in the ancient Mediterranean world, and films imbued with classical themes and allusions.  Readings in film criticism and ancient literature.  Some of these films have attempted to capture historical events, characters, or myths from the ancient past.  How do these films force us to reconsider our assumptions about antiquity?  What do these films reveal about the times that produced them? We also study films with allusions to ancient mythology, history, philosophy, or literature.  How do classical allusions or symbols enrich the (modern) story?
Prerequisite: This course is an honors course and is only open to students in the University Honors Program.
GE credit (Old): Arts & Humanities and Writing Experience.
GE credit (New): Arts & Humanities and Writing Experience.
Format: Lecture - 3 hours; Film Viewing - 2.5 hours.