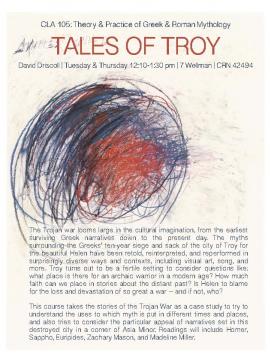 Classics 105. Practice of Greek and Roman Mythology (4 units)
David Driscoll
TR 12:10-1:30P
7 Wellman Hall
CRN 42494
Course Description: Thematically focused study of mythological narratives. Emphasis on the historical development of myths and the variety of theoretical approaches for the study of myth.
Prerequisite: A lower division Classics course or consent of instructor (dfdriscoll@ucdavis.edu).
GE credit (New): Arts & Humanities and Writing Experience.
Format: Lecture/Discussion - 3 hours; Term Paper.