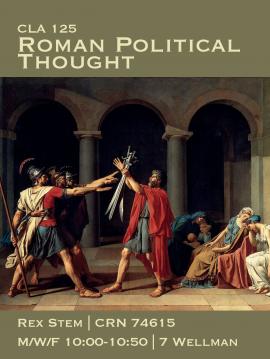 Classics 125. Roman Political Thought (4 units)
Rex Stem
MWF 10:00-10:50A
7 Wellman Hall
CRN 74615
Course Description: This class will explore how the ancient Romans thought about their political history and identity by analyzing a series of contemporary narratives (all written between ca. 60 and ca. 20 BCE). The first half of the course features two prominent accounts of Rome's origins, Virgil's epic Aeneid and Livy's mythic history, while the second half considers the interaction of republicanism, rhetoric, and military command during the generation that saw the collapse of the Roman Republic. This is not a philosophy course or a history course, but an attempt to demonstrate how the Romans embedded their political ideas in literary and historical narratives about Roman achievements.
Two meetings a week will be mostly lecture and the third meeting per week will be open discussion. Students will be expected to read extensively and produce, in class and on paper, close analysis of Roman texts. Six short papers and a final paper are required and will count for 70% of the final grade. Midterm and final exams will constitute the remaining 30%. Success in this class will require active consideration of the readings and thoughtful responses.
Prerequisite: A lower division Classics course or consent of instructor (srstem@ucdavis.edu).
GE credit (Old): Arts & Humanities.
GE credit (New): Arts & Humanities, World Cultures, and Writing Experience.
Format: Lecture/Discussion - 3 hours; Term Paper.
Textbooks:
Virgil, The Aeneid, translated by Robert Fitzgerald  (Vintage Classics, 1990)
Livy, The History of Rome, Books 1-5, translated by Valerie M. Warrior  (Hackett Publishing, 2006)
Julius Caesar, The Gallic War, translated by Carolyn Hammond  (Oxford University Press, 2008)
Sallust, Catiline's Conspiracy, The Jugurthine War, Histories, translated by William W. Batstone  (Oxford University Press, 2010)
Nepos, On Foreign Generals, translated by J.S. Watson