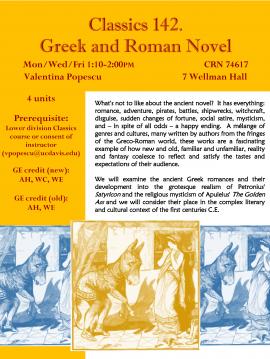 Classics 142. Greek and Roman Novel (4 units)
Valentina Popescu
MWF 1:10-2:00P
7 Wellman Hall
CRN 74617
Course Description: What's not to like about the ancient novel?  It has everything: romance, adventure, pirates, battles, shipwrecks, witchcraft, disguise, sudden changes of fortune, social satire, mysticism, and – in spite of all odds – a happy ending.  A mélange of genres and cultures, many written by authors from the fringes of the Greco-Roman world, these works are a fascinating example of how new and old, familiar and unfamiliar, reality and fantasy coalesce to reflect and satisfy the tastes and expectations of their audience.
We will examine the ancient Greek romances and their development into the grotesque realism of Petronius' Satyricon and the religious mysticism of Apuleius' The Golden Ass and we will consider their place in the complex literary and cultural context of the first centuries C.E.
Prerequisite: A lower division Classics course or consent of instructor (vpopescu@ucdavis.edu).
GE credit (Old): Arts & Humanities and Writing Experience.
GE credit (New): Arts & Humanities, World Cultures, and Writing Experience.
Format: Lecture - 3 hours; Term Paper.
Textbooks:
Collected Ancient Greek Novels  [2nd Edition], edited by B.P. Reardon  (University of California Press, 2008)
Apuleis, The Golden Ass, translated by E.J. Kenney  (Penguin Classics, 1999)
Petronius, The Satyricon, translated by J.P. Sullivan  (Penguin Classics, 2012)