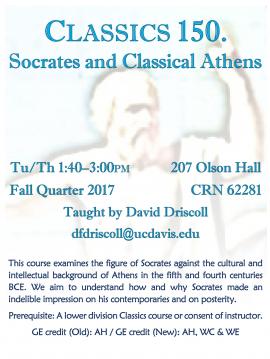 Classics 150. Socrates and Classical Athens (4 units)
David Driscoll
TR 1:40-3:00P
207 Olson Hall
CRN 62281
Course Description: Study of the major sources of our knowledge of Socrates, assessment of his role in the politics and culture of ancient Athens, his method of teaching, and his place in Western thought.
Prerequisite: A lower division Classics course or consent of instructor (dfdriscoll@ucdavis.edu).
GE credit (Old): Arts & Humanities.
GE credit (New): Arts & Humanities, World Cultures, and Writing Experience.
Format: Lecture/Discussion - 3 hours; Term Paper.
Textbooks:
Thucydides, The Landmark Thucydides: A Comprehensive Guide to the Peloponnesian War, translated by Richard Crawley  (Free Press, 1998)
Joint Association of Classical Teachers, The World of Athens: An Introduction to Classical Athenian Culture [2nd Edition]  (Cambridge University Press, 2008)
Plato, Gorgias, translated by Donald J. Zeyl  (Hackett Publishing Company, 1987)
Various, The Trials of Socrates: Six Classic Texts  (Hackett Publishing Company, 2002)