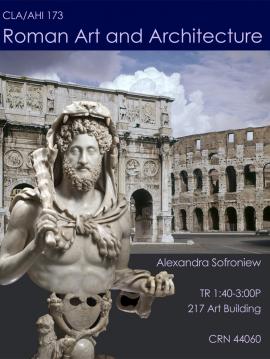 Classics 173. Roman Art and Architecture (4 units)  [Cross-listed with AHI 173]
Lynn Roller
TR 1:40-3:00P
217 Art Building
CRN 44060
Course Description: Art and architecture of Rome and the Roman Empire, from the founding of Rome through the fourth century C.E.
Prerequisite: None.
GE credit (Old): Arts & Humanities and Writing Experience.
GE credit (New): Arts & Humanities, Visual Literacy and Writing Experience.
Format: Lecture - 3 hours; Term Paper.