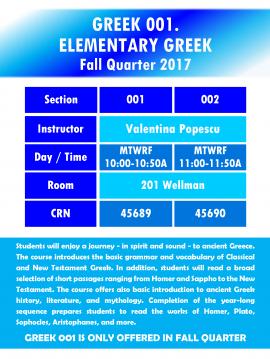 Greek 001. Elementary Greek (5 units)
Valentina Popescu
Section 1:
MTWRF 10:00-10:50A
201 Wellman Hall
CRN 45689

Section 2:
MTWRF 11:00-11:50A
201 Wellman Hall
CRN 45690
Course Description: Students will enjoy a journey - in spirit and sound - to ancient Greece. The course introduces the basic grammar and vocabulary of Classical and New Testament Greek. In addition, students will read a broad selection of short passages ranging from Homer and Sappho to the New Testament. The course offers also basic introduction to ancient Greek history, literature, and mythology. Completion of the year-long sequence prepares students to read the works of Homer, Plato, Sophocles, Aristophanes, etc.
Course Placement: Students who have successfully completed, with a C- or better, Greek 02 or 03 in the 10th or higher grade in high school may receive unit credit for this course on a P/NP grading basis only. Although a passing grade will be charged to the student's P/NP option, no petition is required. All other students will receive a letter grade unless a P/NP petition is filed. For more information, please directly contact the instructor, Valentina Popescu (vpopescu@ucdavis.edu) or the staff adviser, Amy Lowrey (allowrey@ucdavis.edu).
Prerequisite: None.
GE credit (Old): Arts & Humanities.
GE credit (New): Arts & Humanities.
Format: Lecture - 5 hours.
Textbooks:
Andrew Keller and Stephanie Russell, Learn to Read Greek: Part 1, Textbook and Workbook Set  (Yale University Press, 2012)