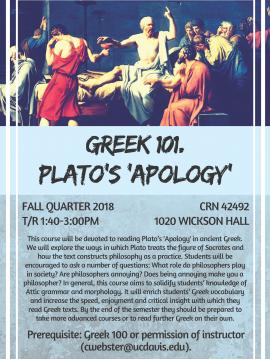 Greek 101. Plato's Apology (4 units)
Colin Webster
TR 1:40-3:00P
1020 Wickson Hall
CRN 42492
Course Description: This course will be devoted to reading Plato's Apology in ancient Greek. We will explore the ways in which Plato treats the figure of Socrates and how the text constructs philosophy as a practice. Students will be encouraged to ask a number of questions: What role do philosophers play in society? Are philosophers annoying? Does being annoying make you a philosopher? In general, this course aims to solidify students' knowledge of Attic grammar and morphology. It will enrich students' Greek vocabulary and increase the speed, enjoyment and critical insight with which they read Greek texts. By the end of the semester they should prepared to take more advanced courses or to read further Greek on their own.
Grading: classroom engagement, short weekly quizzes, midterm and final exam, term paper.
Prerequisite: Greek 100 or permission of instructor (cwebster@ucdavis.edu).
GE credit (New): Arts & Humanities and Writing Experience.
Format: Lecture - 3 hours; Term Paper.
Textbooks:
Plato, Apology (Revised Edition), edited by James J. Helm  (Bolchazy-Carducci, 2003)
[OPTIONAL]
H.G. Liddell and Robert Scott, An Intermediate Greek-English Lexicon: Founded upon the Seventh Edition of Liddell and Scott's Greek-English Lexicon  (Oxford University Press, 1945)
Herbert Weir Smyth, Greek Grammar (Revised Edition), edited by Gordon M. Messing  (Harvard University Press, 1956)