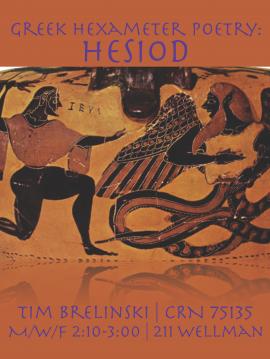 Greek 106. Greek Hexameter Poetry (4 units)
Tim Brelinski
MWF 2:10-3:00P
211 Wellman Hall
CRN 75135
Course Description: Selected readings from ancient Greek hexameter poetry. Wisdom poetry, hymns, epyllia, idylls, epic, natural history and other texts from the hexameter tradition. May be repeated for credit.
Prerequisite: Greek 100 or consent of instructor (tbrelinski@ucdavis.edu).
GE credit (Old): Arts & Humanities and Writing Experience.
GE credit (New): Arts & Humanities, World Cultures, and Writing Experience.
Format: Lecture/Discussion - 3 hours; Writing - 3 hours.