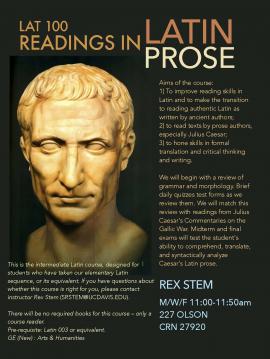 Latin 100. Readings in Latin Prose (4 units)
Rex Stem
MTWR 11:00-11:50A
227 Olson Hall
CRN 27920
Course Description: This is the intermediate Latin course, designed for students who have taken our LAT 01-02-03 sequence, or its equivalent. It functions as the bridge to our other upper division Latin courses. If you have questions about whether this course is right for you, do not hesitate to contact Rex Stem (srstem@ucdavis.edu).
Aims of the course: 1) To improve reading skills in Latin and to make the transition to reading authentic Latin as written by ancient authors; 2) to read texts by prose authors, especially Julius Caesar; 3) to hone skills in formal translation and critical thinking and writing.
We will begin with a review of grammar and morphology. Brief daily quizzes test forms as we review them. We will match this review with readings from Julius Caesar's Commentaries on the Gallic War. Midterm and final exams will test the student's ability to comprehend, translate, and syntactically analyze Caesar's Latin prose.
Prerequisite: Latin 003 or the equivalent.
GE credit (New): Arts & Humanities.
Format: Lecture/Discussion - 4 hours.
Textbook:
Francis W. Kelsey and Rex Stem, Julius Caesar: Commentaries on the Gallic War  (Michigan Classical Press, 2017)