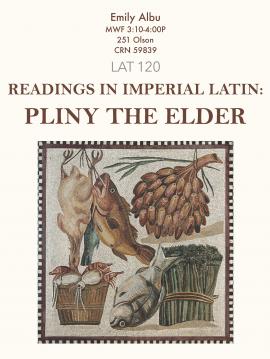 Latin 120. Readings in Imperial Latin Literature: Pliny the Elder (4 units)
Emily Albu
MWF 3:10-4:00P
251 Olson Hall
CRN 59839
Course Description: Pliny the Elder was serving as prefect of the imperial fleet in Campania when Vesuvius erupted in 79 C.E.  Scientific curiosity drew him to investigate, and he died from the sulfurous fumes as he was rescuing a friend and her household from their nearby villa.  His military posts and administrative positions had taken him throughout much of the western empire – to Germany, Spain, Africa, and likely to Gaul, all the while bringing him into the confidence of the emperor Vespasian.  A tireless worker, he also found time to write many volumes – on topics ranging from the art of throwing the javelin from horseback to the art of rhetoric, from history and biography to the phenomena of the universe.  Only his Natural History remains – a massive compendium of knowledge culled from hundreds of Greek and Roman sources.  We'll read selections that take us deep into the world that the Romans knew and imagined.
This is the advanced Latin course for Winter 2018.  Students who are unsure about placement are encouraged to consult with the instructor (emalbu@ucdavis.edu).
May be repeated for credit up to two times when topic varies.
Prerequisite: Latin 100 or equivalent.
GE credit (Old): Arts & Humanities.
GE credit (New): Arts & Humanities, World Cultures, and Writing Experience.
Format: Lecture/Discussion - 3 hours; Term Paper.
Textbook:
Pliny the Elder: The Natural History Book VII (with Book VIII 1-34), edited by Tyler T. Travillian  (Bloomsbury Academic, 2015)