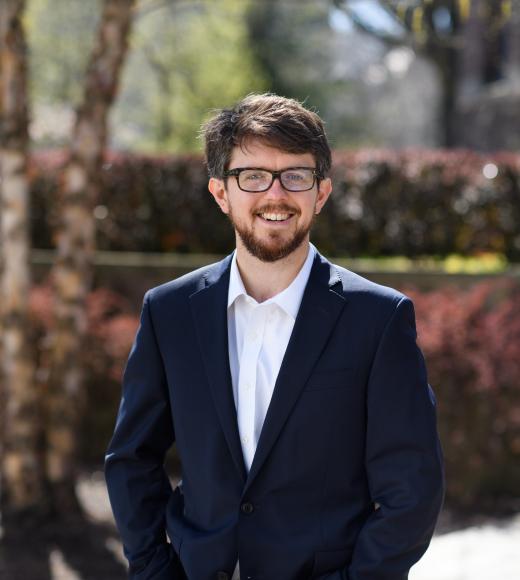 Bio
Education
PhD, Classics, Brown University (2015)
BA, Classics, Harvard University (2007)



Profile

Byron MacDougall is excited to join the Classics community at Davis this fall. He previously taught as a Visiting Assistant Professor in the Classics Department at Brown University, and has held research fellowships at Dumbarton Oaks, the University of Vienna, and Princeton's Seeger Center for Hellenic Studies. His research interests center on Late Antique and Byzantine literary culture, especially the reception of ancient literature and philosophy. 
Selected Publications
"Callicles after the Gorgias: Platonic Heroism in the Lives of Moses, Basil of Caesarea, and Emperor Julian," Classical Philology 115.4 (2020)
"Hierotheus at the 'Dormition': Pseudo-Dionysius the Areopagite on his Teacher's Rhetorical Performance in On Divine Names," Journal of Early Christian Studies 28.2 (2020) 233-253
"The Byzantine Reception of Porphyry's Isagoge," (co-authored with Christophe Erismann), Medioevo: Rivista di storia della filosofia medievale 43 (2018) 42-72
"Aristotle at the Festival: The Orations of Theodore the Stoudite and Byzantine Logical Culture," Jahrbuch der Österreichischen Byzantinistik 68 (2018) 251-260
"John of Sardis' Commentary on Aphthonius' Progymnasmata: Logic in Ninth-Century Byzantium," Greek, Roman, and Byzantine Studies 57.3 (2017) 721-744
"Living Images and Authors of Virtue: Theodore of Stoudios on Plato of Sakkoudion and Gregory of Nazianzus on Basil," Byzantinische Zeitschrift 110.3 (2017) 691-712
"Arianism, Asianism, and the Encomium of Athanasius by Gregory of Nazianzus," in Alberto J. Quiroga Puertas (ed.), Rhetorical Strategies in Late Antique Literature: Images, Metatexts and Interpretation (Leiden 2017) 104-116
"The Festival of Saint Demetrios, the Timarion, and the Aithiopika," Byzantine and Modern Greek Studies 40.1 (2016) 136-150
"Callimachus and the Bishops: Gregory of Nazianzus' Second Oration," Journal of Late Antiquity 9.1 (2016) 171-194
"Gregory Thaumaturgus: a Platonic Lawgiver," Dumbarton Oaks Papers 70 (2016) 25-42
"The Book of Isis and the Myth of Er," American Journal of Philology 137.2 (2016) 251-285
"Michael Choniates at the Christian Parthenon and the 
Bendideia 
Festival of 
Republic 
I," 
Greek, Roman, and Byzantine Studies
 55.1 (2015)
273-299.