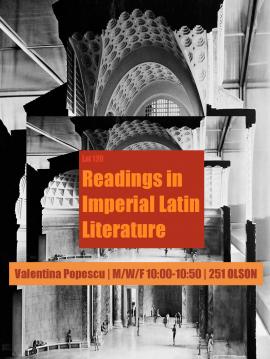 Latin 120. Readings in Imperial Latin Literature: Pliny the Younger (4 units)
Valentina Popescu
MWF 10:00-10:50A
251 Olson Hall
CRN 40059
Course Description: We will read selections from Pliny's letters and discuss them in their political, social, and cultural context. The focus will be on letters dealing with literary pursuits, Pliny's construct of matrimonial bliss and social elegance, family relationships, portraits of women, cultural clashes (dealing with rising Christianity in the eastern provinces), and natural disasters (eruption of Vesuvius).
May be repeated for credit up to two times when topic varies.
Prerequisite: Latin 100 or equivalent.
GE credit (New): Arts & Humanities, World Cultures, and Writing Experience.
Format: Lecture/Discussion - 3 hours; Term Paper.
Textbooks:
Pliny the Younger, Selected Letters, edited by Joann Shelton  (Bolchazy-Carducci Publishers, 2016)
The Letters of the Younger Pliny, translated by Betty Radice  (Penguin Books, 1963)