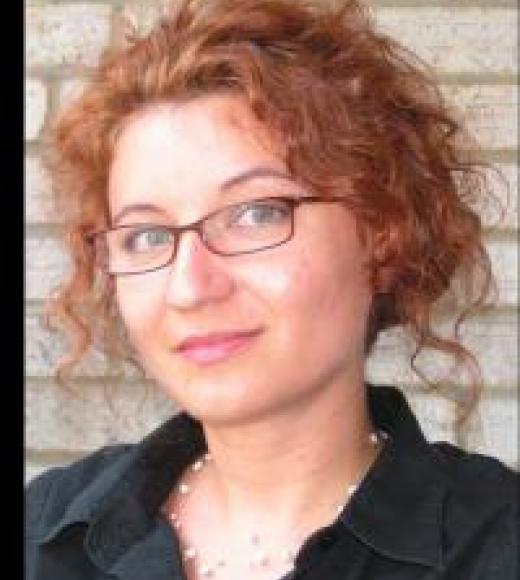 Position Title

Lecturer in Classics

Undergraduate Advisor
Office Hours
Tuesday & Thursday 1:10-2:10 and by appointment (email to request a Zoom link)
Bio
Education and Degrees:
Ph.D., Classics, University of Cincinnati
B.A., Classics and Spanish, Al. I. Cuza University, Iași, Romania
Research Interests:
Imperial literature
Ancient constructions of identity
Ancient Novel, Comedy, Paradoxography
Courses Taught:
Elementary Greek and Latin
New Testament Greek
Lucian, Aristophanes, Homer, Herodotus, Plato
Apuleius, Petronius, Virgil, Plautus, Pliny the Younger, Caesar, Cicero
Women and Gender in Antiquity, Ancient Novel, Greek and Roman Comedy, Etymology
First Year Seminars: Sex Strike and Woman Power. From Lysistrata to Allysa Milano (2020); Fantasy and Satire in Lucian (2018) 
Honors and Awards:  
Academic Federation Award for Excellence in Undergraduate Teaching (2019)
Selected Publications:
"Phlegon's Marvels in Context", In E. Cueva et al., Re-Writing the Ancient Novel. Volume 2: Roman Novels and Other Important Texts, Ancient Narrative Supplementum 24.2, 2018, 249-260.
"Thauma in Lucian", in J.-Ph. Guez, F. Klein, J. Peigney, and E. Prioux, Dictionnaire des images du poétique dans l'Antiquité (forthcoming). 
"Lucian's Saturnalia. Rewriting the Literary Nomoi." Illinois Classical Studies 41.1, 2016, 219-228.
"Lucian's True Stories: Paradoxography and False Discourse." In M. Futre Pinheiro, G. Schmeling, E. Cuevas, Frontiers of the Genre. Fluid Texts, Ancient Narrative Supplementum 18, 2014, 39-58.
"Paradoxography and the Aesthetics of Paradox in Lucian's Prolaliai." Nuntius Antiquus 9.2, 2013, 57-86.